I don't know about you, but when I google "simple hairstyles", hairstyles that do not look simple at all come up. That might be simple if I was a professional, but… I'm not. So if I can do this hairstyles, so can you!
---
One of my favorite ways to make a ponytail (or really any simple hairstyle) look cute is with a scrunchie! Here are some of my favorites –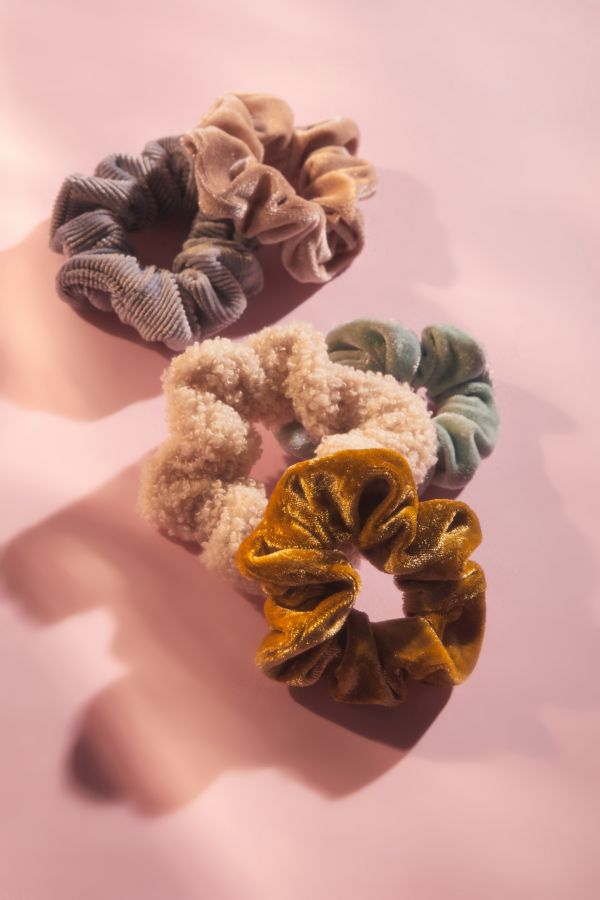 ---
01. messy bun
can I just say that I have not mastered this one yet? I can do it… but it doesn't look just like the picture. but that's okay, because that's the whole point of the messy bun! I usually wear this one when I need something really quick to pull my hair back.
02. side braid
This picture is actually of a triple braid or something (something complex) but you get the point. I usually do this one when my hair is really wavy/messy/poofy or I slept with it up accidentally. It always looks different but it's really cute and simple which is perfect!
03. flip/twist/pull back
Yes I know that I don't know the right name for this hairstyle… but it's cute regardless! To do it, just brush through your hair and grab two small pieces (however big you want the flip to be), put them in a loose ponytail with an elastic, and flip the hair through! voila ❤
04. half up ponytail
This looks especially cute if you have wavy hair or second-day curls (or even freshly curled hair!), but it also works if you haven't curled your hair recently and have straight hair. To do it, just grab a scrunchie or elastic  and put the top section of your hair in a loose ponytail.
05. half up bun
This is basically the above hairstyle, except instead of pulling the top section into a ponytail, twist it into a simple bun! This hairstyle works well with lots of different hair lengths and types.
06. low ponytail with scrunchie
with a little volume and wave, a low ponytail can look great. I love this style on days when my hair is extra puffy and wavy because it looks best! fluff out your hair and add a scrunchie for best results.
07. low flip
This is basically the same style as above except with a low ponytail… pull your hair into a loose low ponytail and flip it/pull through! super easy but it always looks nice!
08. twisted half up/ponytail
Clearly I don't really know how to describe this, but it's super easy! Grab two sections of your hair (relatively small, from each side), twist them, and put them together in a ponytail. You can flip them or add a bow/scrunchie for an extra fun look!
---
what's your favorite hairstyle for busy mornings? do you have a hairstyle staple you always wear?
❤ have fun, christina