𝚑𝚎𝚕𝚕𝚘  𝚝𝚑𝚎𝚛𝚎
get ready for a super chatty/hopefully fun post! this is going to be all over the place (uhhh music, goals, and outfit ideas? lol) but… yeah? ❤
---
it's that time of year again guys HOW? It's already december 2019 (okay, has been for like three weeks) and it feels like new year's day 2018 was just here??? I have grown so much this year and I literally cannot wait to see what 2020 does.
anyway…
---
𝐜𝐡𝐫𝐢𝐬𝐭𝐦𝐚𝐬 𝐩𝐥𝐚𝐲𝐥𝐢𝐬𝐭
just a warning basically every song on here is a classic?? lol
01. all I want for christmas is you (mariah carey) – BEST CHRISTMAS SONG EVER. seriously. prove me wrong 😂
02. baby it's cold outside – some people don't like this song which I understand but it's actually one of my favorites?
03. white christmas – even though I live in florida A GIRL CAN DREAM amiright?
04. last christmas – this isn't my favorite but I really like it! it's a cute song ❤
05. it's beginning to look a lot like christmas – what can I say this one is pretty self explanatory?
06. you're a mean one, mr. grinch – uhh this one is soo fun to sing along to? and it's basically an essential song I guess??
07. forevermore (chris tomlin) – I love this song!! It's been stuck in my head for the past few days lol
08. little drummer boy (penatonix) – this one is a great christmasy song and… you know… it's by penatonix soo of course I'll love it!
I know this is a really short christmas playlist but picking songs was so hard… also my other favorite music I've been playing nonstop lately (it's not christmasy but…) is the greatest showman soundtrack! I finally watched the movie (like 3 years late i know) but it's so good and all the music is amazing!! ❤
---
𝟐𝟎𝟐𝟎 𝐠𝐨𝐚𝐥 𝐬𝐧𝐢𝐩𝐩𝐞𝐭𝐬
if you guys have any goal ideas please let me know down below!
so far, my main goal ideas are:
01. do something with legacy?? idk maybe I just need to start a new wip but I really want to make Legacy something. If you have any ideas for me that would be great!
02. get better at violin – I'm not exactly sure but I certainly want to improve?
03. read my whole bible again – okay I know this sounds crazy but a bunch of my youth group friends want to do it this year so I'm considering doing it again this year!
04. make a list of emotional goals (that sounds so weird and is not the word I'm looking for)… basically like kindness, confidence, things like that
05. grow my blog – this one is pretty obvious but I definitely want to be more consistent with my posts ❤
---
𝐰𝐢𝐧𝐭𝐞𝐫 𝐨𝐮𝐭𝐟𝐢𝐭 𝐢𝐝𝐞𝐚𝐬
as most of you know I live in the lovely state of florida (*sarcasm* jk I love my state but…) where we don't get much of a winter season but I still love sharing winter outfit ideas 😂
this outfit is so cute and while the color scheme might not be the most practical it looks adorable!
those earrings are so pretty and the sweater is a great color! I would definitely wear this and while it's more of a fall-winter between style it would be perfect for florida because it's just warm enough!
The boots are such a great statement and really make it stand out. That sweater also looks really comfy ngl
The sweater dress is a really pretty color and this outfit is really simple but adorable.
Those jeans are so cute (I love how they're ripped but not too ripped) and the jacket/shoes are 😍 too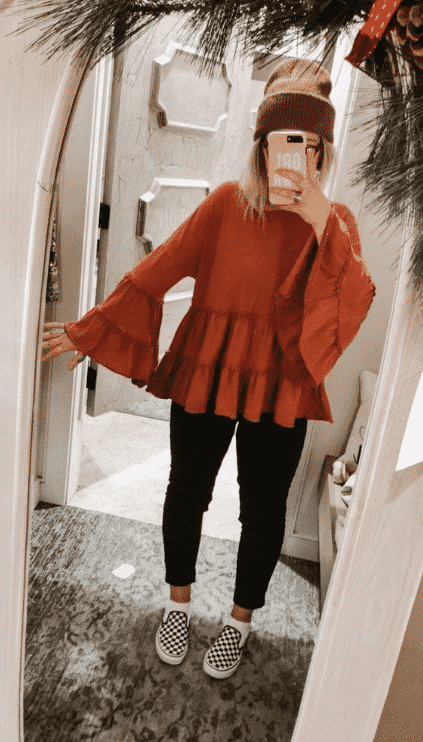 That shirt is AMAZING – I love the sleeves and the ruffles… ahhh soo cute!!!
---
𝐜𝐨𝐦𝐦𝐞𝐧𝐭 𝐩𝐫𝐨𝐦𝐩𝐭𝐬
what's on your christmas playlist? have you already started planning your goals for 2020? do you like the greatest showman soundtrack? what's your favorite song? 
❤ this is the greatest show, christina
okayy I'm sorry I just love the movie/songs 😂😍