^^ man I really should make a new hello gif… the font on this one doesn't work with my blog 😦
Anyway, hi guys! How has your week been? Mine has been good! Today's post is all about saving money when shopping for Christmas! Let's get started 🙂
You're saving up money for something
You have a lot of people to buy gifts for
You don't have a lot of money in the first place
You want to buy really special things for several people (like immediate family or really close friends)
You have to pay a lot for shipping because of your location so you need to budget less on products
That last one was kinda random… haha! Anyway, saving money is great even if you don't really want a specific reason!
Tip 1- Don't buy it just because it's on sale… but sales are awesome too!
A lot of stores have sales during this time of year that may seem huge. Think "Our Biggest Sale Ever" "We can only afford to have this sale once a year" "This Sale only lasts one day"… yeah, that's not always true! Sometimes these sales are fake… the prices aren't really lowered at all! Another problem with sales- impulse buying! I am totally guilty of buying an item literally just because it was on sale. It comes in the mail and I'm like "Wait, I bought that?".  Guys… DO NOT DO THIS. I am literally so so guilty of this… it's so hard not to! Just don't!
Don't think I'm saying sales are awful! They are great… but go in with a plan! Before you open the website or enter the store, make a list of what you want to come out with. This can be super detailed- "yadayada green mug for mom, YadaYadaYada brand" or very general- "mug for mom". If you have a good reason to stray from your plan, like you found exactly what mom is asking for on sale, then totally do so, but be discerning about when to do that.
Sales are kinda my bff, and they should totally be yours too- but don't impulse buy and make a plan!
Tip 2: Don't be scared to shop clearance/used!
A lot of people stay away from the clearance section… let alone used! This is actually pretty silly since with good judgement, clearance or used buys can be great.
In most stores, clearance is basically a section of marked down buys. You can ask the particular store's staff why certain things are in clearance, but generally clearance contains items that are:
almost out of stock/no refill
not going to be sold anymore
a "clearing"- more room for new goodies!
just a special section for marked down items!
Clearance shouldn't be scary! Generally, the items in it are the same quality as regular buys… just a better price!
The next step  from clearance is the "messed up" section. This sounds SUPER scary (I just made up the name, that's not what they actually call it) but don't freak out. Generally, this section contains items that are:
packaging is broken/messed up
item has smudge, small crack, or is a little dirty
The prices in this section are generally awesome! Before shying away from here, think about what you don't like about it. If you're going to unwrap the item before gifting, then messed up packaging doesn't matter! If there's a little dirt or dust on something, you can wash it off!
The highest step from clearance is the used section. Used buys vary! Some are great quality, never really used, but others are pretty messed up. Here are a couple rules of thumb when buying used:
don't buy something unless there are pictures/VERY detailed description
look at ratings and reviews for the person you are buying from
go through a company like Amazon or Ebay
compare the price used to the price new (at different stores)
don't be afraid to message the seller and negotiate/ask questions
look at the shipping/processing costs!
Tip 3- Use coupons!
Coupon codes are really helpful when shopping! They can give you a special price on an item. They seem quite scary, though, because they're really hard to find! Googling coupons for "yadayadashop" will provide tons of coupons… but pretty much none of them work! I have had places that NEVER provide good coupons ask for money to see more coupons… not happening! Don't spend hours looking for coupons, guys! Try honey!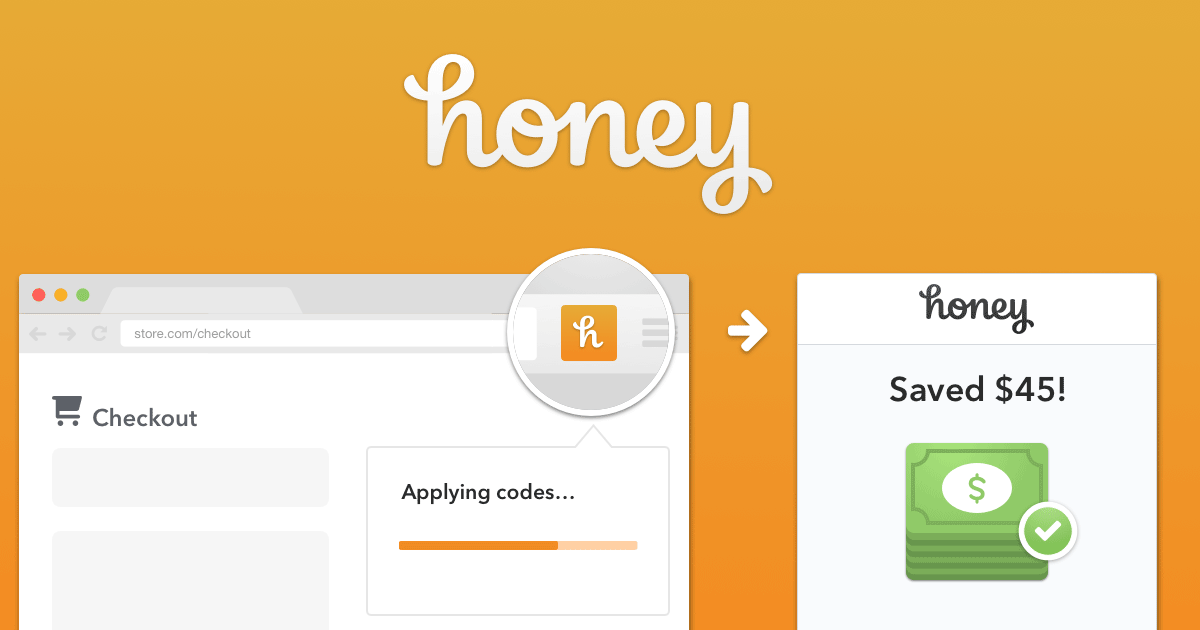 Wait… what's honey?
Honey is a 100% free browser extension that tries every possible coupon code for pretty much every site! It takes them about 5 seconds. Honestly, they haven't ever saved me $45 (the most is probably $10 or $20) but that is still something! Plus it saves all the time of googling coupons.
Honey not only finds coupons, it "pays you back" for many stores. Most of the time this is 5-10% of your purchase. They pay you in honey gold (1000 pieces of honey gold= $10) that can be redeemed in the form of a gift card… to basically every store on the planet.
Honey has a TON of other features as well, like a droplist (you can save items and view if their price changes) and the ability on amazon to switch items out. If Honey finds the same thing for a lower price, they will let you know! It is SO helpful!
Guys… check honey out!
this is not an ad BTW… honey is just that awesome 🙂
Did you like this post? Will you be using this tips? See you next week 🙂 (or in the comments)